DERIVA Platform¶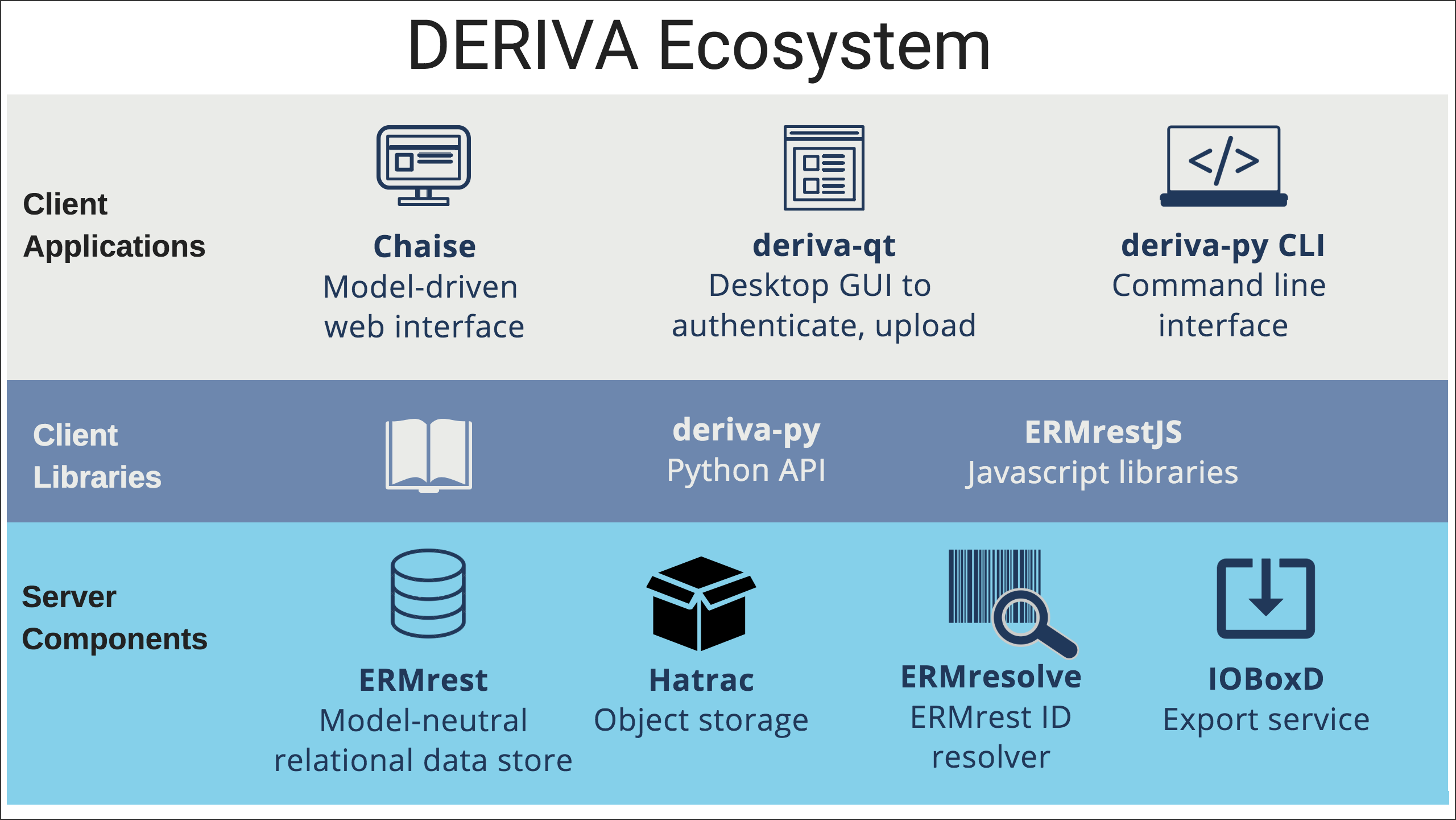 At DERIVA's core are a suite of server components that store the data, describe the data model, represent the data and provide exporting capabilities.
Client applications offer a 1) web interface that represents the data, data model and filtering/search capabilities for discovering data, 2) a desktop GUI that data submitters can use to authenticate with the deployment and upload data files and 3) command line interface for interacting with the data.
Client libraries that…
Let's take a closer look at each of these layers.
Client Libraries¶
Python APIs (deriva-py)¶
The Python APIs in the deriva-py module include:
low-level ERMrest interface (see ErmrestCatalog)
low-level Hatrac interface (see HatracStore)
higher-level ERMrest catalog configuration (see CatalogConfig)
higher-level ERMrest "data path" (see documentation and tutorials)
Javascript Libraries (ERMrestJS)¶
ERMrestJS provides javascript bindings for ERMrest protocols with APIs for interacting and working with ERMrest.
Client Applications¶
Web Interface (Chaise)¶
Chaise is our user interface application. Written in Angular Javascript to provide powerful features in the browser. Configure Chaise to choose what and how to display the data in ERMrest and Hatrac.
Users interact with the data (records) via the following capabilities:
Search and browse (in a faceted search)
Navigate between records
Create, alter or extend domain model in catalogs
Export collections of assets and metadata
Share collections with others
Annotate data.
Desktop clients (deriva-qt)¶
DERIVA provides Graphical User Interface tools for submitting data to a DERIA platform:
An Authentication Agent that connects with your DERIVA security credentials
File Upload for uploading data from your local environment. This tool is best when your uploading from your own computer and it's not a very large amount of data.
Commandline Clients (deriva-py)¶
Commands available in the deriva-py module include:
deriva-acl-config: a command-line ERMrest ACL configuration utility
deriva-hatrac-cli: a command-line Hatrac client
deriva-download-cli: a command-line utility for batch export and download of tabular data from ERMrest and objects from Hatrac
deriva-upload-cli: a command-line data upload and metadata update utility